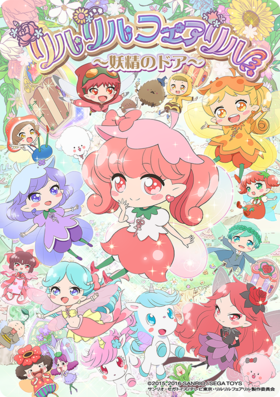 Rilu Rilu Fairilu: The Fairies' Door (リルリルフェアリル ~妖精のドア~ Rilu Rilu Fairilu ~Yosei no Door~) is an upcoming 2016 anime based on the franchise by Sanrio and Sega Toys, who collaborated on Jewelpet before. It is the first season of the series. The series is set to premiere on February 6, 2016 on TV TOKYO, airing on Saturdays at 9:30 AM replacing Jewelpet in its timeslot.[1]
Sanrio and Sega Toys announced a new multimedia franchise on the website. The franchise is set to have an anime, followed up with a variety of merchandise of toys, accessories, bags, and stationery. Studio DEEN which previously animated the last Jewelpet anime, will be in charge of the animation.
References
↑ AnimeNewsNetwork. (2015, Dec 24). Sanrio, Sega Toys' Rilu Rilu Fairilu TV Anime Premieres on February 6. AnimeNewsNetwork. Retrieved Dec 28, 2015.
External Links